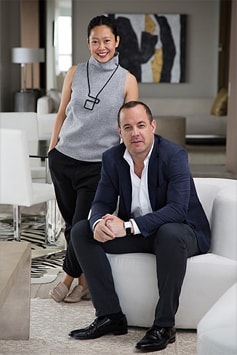 Work With One Of New York's
Most Elite Real Estate Professionals
10 East 53rd Street, 5th Floor New York NY 10022
CLOSE X
Main Content
317 Allen Street, Hudson, New York
Beds 8 |Bath 7.5 |Property Type Single Family
|Approx. SQFT7540
Price: $2,250,000
The home was designed and built by renowned architect Marcus Reynolds in 1903 and completed in 1906 for the original owner, Morgan Jones.  At the time of its completion, it was believed to have been the largest and most grand home in the city of Hudson.  Within the home were superior ornate features such as American chestnut and walnut wall and ceiling panels, oak and maple hardwood flooring, Tiffany glass skylight and windows, all brick exterior and large slate roof.  The home remained as a single-family home until the early 1980s when it was sold and converted into a nursing home.  After about 20 years, the nursing home was relocated and the home was purchased by its previous owners who undertook an extensive renovation and restoration.
Currently, the home has a total of 7,540 square feet of living area, including eight bedrooms and seven and a half bathrooms. Other rooms include a central reception room, living room, formal dining room, billiard room, solarium and other support rooms.  There is an abundance of ornamental wood trim and moldings throughout. All of the windows are the original wood, double hung, most with the original leaded glass and original wood storm windows and screens.  The interior is finished with a combination of original plaster walls and ceilings, American chestnut or walnut walls and ceilings, oak or maple flooring and ceramic tiled flooring in the bathrooms. 
There have been numerous upgrades to the electrical systems, new heating and cooling systems have been installed and the kitchen and bathrooms have been completely updated.  While updated, the bathrooms have been furnished with period fixtures and features to maintain the character of the home. There is also a large walk-up attic and a multi-room basement. The heating system is a combination of forced air and hot water.  Air conditioning is provided throughout most of the home via individual units that have been permanently installed.  The exterior of the house is all brick with a combination of masonry and marble window mantles and sills, as well as several large brick and lined fireplace chimneys.