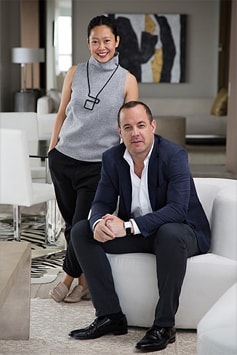 Work With One Of New York's
Most Elite Real Estate Professionals
10 East 53rd Street, 5th Floor New York NY 10022
CLOSE X
Main Content
163-167 East 69th Street, NY, New York
Beds 9|Bath 10|Property TypeTownhouse
|Approx. SQFT16,000
Price:$32,000,000
163-167 East 69th Street, NY, New York
Beds 9 |Bath 10 |Property Type Townhouse
|Approx. SQFT16,000
Price: $32,000,000
50 Foot Townhouse with Garage
163-167 East 69th Street is one of the most extraordinary offerings to come to market in NYC. Buyers and their architects and designers will be mesmerized by the chance to create one of the great homes in New York City.
We've put together a mix of exciting renderings along with existing photos of 163 East 69th street and 167 East 69th. We created a floor plan as well that shows an example of a combination and made renderings around that plan. We hope you enjoy!
This ultra rare 50 foot wide townhouse offering has a massive approximately 16,000 sq feet of interior space waiting to be combined with an additional 2500 plus square feet of private outdoor spaces throughout.
163-167 East 69th combined will create one of the most prized, bespoke and grand homes in New York City. The combination allows for buyers to experience an ultra luxury residence with a combination of family offices, art gallery, car collections, entertainment spaces, and guest/staff headquarters.
There are several factors that make 163-167 East 69th street such a remarkable purchase.
50 feet Width. There are only a handful in NYC! An extremely rare offering and probably the widest house being offered on the market in the entire city.
The Interior Light Well/ Courtyard. In the center of these buildings is a stunning light well/courtyard that brings exceptional light into the center of the home. Unlike most deep townhouses which have dark middle interiors this homes beams with light! The experience of having this brick interior courtyard with windows all around is simply stunning and makes living in the home such a wonderful and exceptional experience.
The Remarkable Outdoor Spaces. 163 and 167 have many outdoor spaces that can be used to create more than 2500 plus square feet of beautiful, private and curated landscaped outdoor spaces. From rear gardens, balconies and front and rear penthouse terraces the buyers will acquire endless outdoors spaces waiting to be curated and enjoyed.
Location. 69th street is a very gorgeous tree-lined block of stunning turn of the century townhouses, many of them converted from former carriage houses with vaulted ceilings and large open gallery like spaces. 163-67 is located a few blocks from Central Park, Madison Avenue shops, museums and is walking distance to midtown offices, prime and central Upper East Side. The Residents of this block have included Mark Rothko and home of art dealer Larry Gagosian.
Please call for a private viewing.